Modernizing Data and Analytic Platforms at TTB
The roots of The Tobacco, Tax, and Trade Bureau (TTB.gov) date back to the early days of America, when the first federal taxes were levied on distilled spirits in 1791. Since that time, TTB has stayed abreast of a now-$254 billion alcohol industry through modernized services, e-government initiatives, and specialized IT partners like Onyx Government Services.
To keep up with growing government demands, TTB needed a new software platform to better integrate data sources and provide more accurate reporting and more insightful, effective analytic statistics. They turned to Onyx Government Services.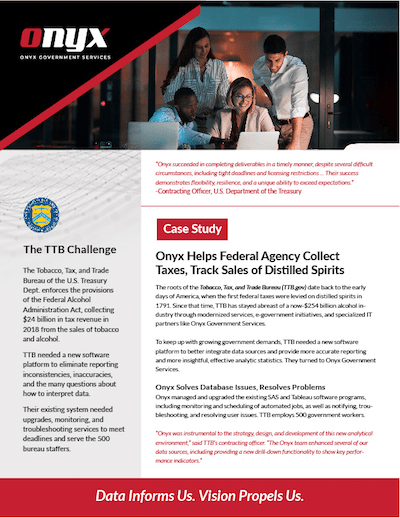 Click here to download the PDF.